Devon Township? Where's that?
Our cabin, located in Devon Township, is less than 30 minutes from the Canada-US border (Grand Portage Crossing). A short trip off Highway 593 in Northwestern Ontario (NWO), and you're here! Our cabin is 7 miles outside of the BWCA. You can view our general location on the map below:


Cross into Canada at the Pigeon River/Grand Portage land border crossing 61 North from Duluth MN
1/2 mile north on Ontario Hwy 61
Left on Ontario Hwy 593 North for 20 miles
Left on Devon Twp Rd #2 (Dirt Rd) for 1/4 mile
We also pick our guests up at the Thunder Bay International Airport and transport them to our lodge if you are flying.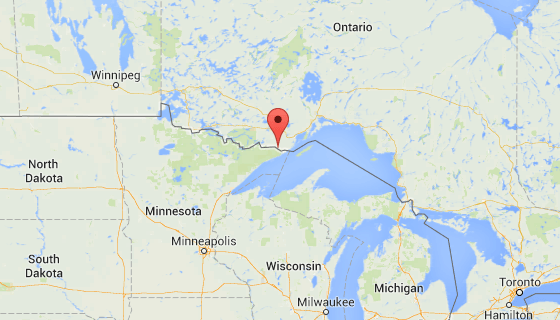 All guests booking a wolf, bear or bird hunt must bring with them evidence of previous hunting experience. An old gun hunting license (a bow hunting license will not suffice) or hunter safety accreditation from your home state.
Your old license or accreditation certificate is presented to the Ontario license issuer as evidence of previous hunting experience. A copy is made and retained by the license issuer.
YOU WILL NOT BE ISSUED A LICENSE IF YOU FORGET THIS PAPERWORK!
Important Links:


How to Purchase a Non-Ontario Resident Hunting License: Click here
How to Purchase a Non-Canadian Resident Fishing License: Click here
Firearm Importation: For this form, populate and print it. Do not sign it, however, as it must be signed in front of a Canada Customs officer. Archery gear does not have to be declared with any forms, etc., as it is not considered a firearm. Click here
*IMPORTANT* Make sure Box "8" of the Non-Resident Firearm Declaration form is filled out with the cabin's address
Lot 39 Con 3 Devon Twp, Nolalu Ontario Canada, POT 2K0