When you book a bear hunt at Boundary Water Guide Services you're booking experience. We have 10 established bait sites. Most in place for 20+ years. We have enjoyed a near 100% success rate the past 25 years. Our guests have harvested many Pope & Young bears. We attribute this success to our style and manner of baiting. We bait heavily! 400-600 pounds of corn at a time, and then we stay away and let the cameras do the work. Corn can't be hauled away and staying away lets the "big boys" get comfortable during the daylight hours. When you arrive there are recent photo's for you to review. You can go afield confident you're going to have action.


Our bear hunts take place on our registered Bear Management Area (BMA). Boundary Waters Guide Service has the exclusive right to guide non-resident hunters on our BMA. Our BMA is approximately 400 square miles, and takes in a large portion of the Boundary Waters area. Recognizable areas include the Pigeon River, North & South Fowl Lakes, and Moose Lake.


Spring bear hunting season opens May 1st and ends June 15th annually. Fall bear season opens August 15th and ends October 31st. We generally book our spring bear hunts in the last three weeks of the season to ensure better trophy quality. We take very limited number of hunters annually. Andrew's goal is, everyone gets a stand that has not been hunted. You're not hunter number 3 or 4 on that stand. You're the first!


We employ a lot of cameras and target specific bears. When you arrive, Andrew takes you through the recent photos of bears at your stand and suggests a specific "target" bear.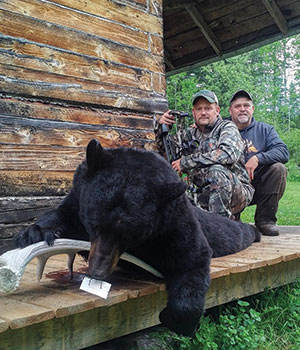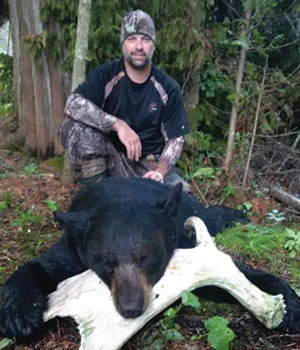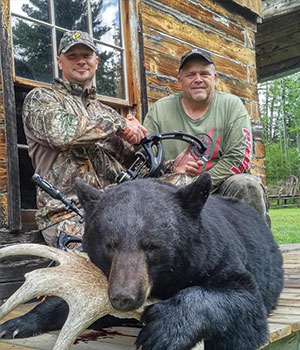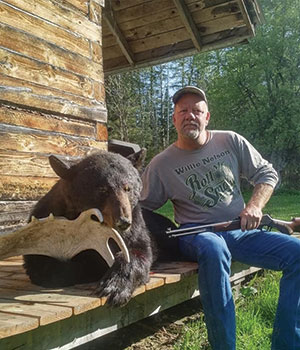 ---
$3,000 USD - All-Inclusive Trip:
We provide:
Accommodations
Meals
Transportation
Skinning & Butchering
Tree-stand, positioned near active pre-baited location
You provide/are responsible for:
Your hunting equipment
License: $235.96 CAD
Non-Resident Ontario Outdoors Card: $10.00 CAD
Non-resident firearm importation fee: $35.00 CAD
Bear Export Permit: $35.00 CAD
You bring your clothes, bow or gun and a cooler to take your trophy home in. We take care of everything else. We feed you. We drive you. We recover. We skin. We butcher. All inclusive. You hunt and relax! Licensing and export fees are NOT included in the $3,000 guiding cost.